What is a Handyman?
A handyman is someone who is "handy". Dictionary definitions of the word include "skillful with the use of one's hands" and "convenient, nearby or easily reached." Both of these definitions describe a handyman perfectly. When you have a job or jobs that require the services of someone who has a multitude of manual skills and who is available on short notice, you need a handyman. A handyman or handyperson is a person skilled at a wide range of repairs, typically around the home. These tasks include trade skills, repair work, maintenance work, both interior and exterior, and are sometimes described as "odd jobs", "fix-up tasks", and include light plumbing jobs such as fixing a leaky toilet or light electric jobs such as changing a light fixture.
One trend is that fewer senior home owners are inclined to do fix-up jobs, perhaps because of time constraints, perhaps because of lack of interest; A primary rule for all do-it-yourself repair work is focus entirely on one thing at a time. For example, focus on getting a nail; then focus on hammering the nail; but don't try to do both tasks simultaneously.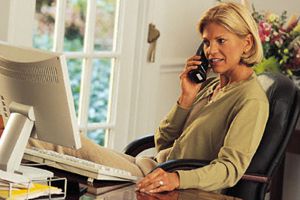 In this manner, injuries and mistakes are avoided. Generally the job of paid handyman is low status, a semi-skilled labor job. It's a less prestigious occupation than a specialist such as a plumber, electrician, or carpenter. With the emergence of large national chains, and effort is being made to change that perception, by emphasizing professionalism and the fact that a handyman is actually a technician with multiple skills and a wide range of knowledge. At the same time, unpaid homeowners skilled at repairs are valued for saving money.
Diverse range of home repair services is tailored upon consultation to best achieve the individual goals of each project, every time. As a general rule, you call on a handyman to do all those "little" jobs around the house you can't do yourself. Just a few of them include:
Handyman Services
Painting: If you want to paint a room but don't feel it's a large enough job for a professional painter, many handymen are skillful painters.
Wall hangings: Hanging paintings, mirrors, TVs and other heavy objects can be tricky and even dangerous if you don't know what you're doing. A handyman knows which kind of hardware is needed to make sure object being mounted will stay mounted.
Cleaning: There are many cleaning jobs that require a handyman's services. For example, if your driveway, pathway or patio floor needs cleaning, a handyman may be able to use a pressure hose to remove mould, dirt and grime and make it look like new again.
Gardening: While you want to call a professional gardener for some jobs, a handyman comes in "handy" for a multitude of gardening jobs.
Carpentry: Do you need to hang some shelves or have a new door fitted? A handyman can do these and many other small carpentry and carpentry-related jobs for you. While a licensed builder is required for larger structures, a handyman can even erect a shed, cubby house or other small structure for you.
Kit and flatpack installation: Carports, kitchen cabinets, furniture and many other things often come in kit or flatpack form. A handyman will have the tools and skills to install these for you.
This is just the tip of the iceberg, but it gives you an idea of just how useful a handyman can be.
Also see our other services features we provide at Thorncliffe Place Senior Retirement Residence Ottawa